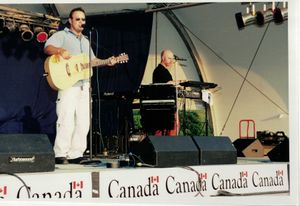 1999 > 2002  - No Ordinary Machine 
This project and album "It's All About Time" was the brain child of Robert HiGGi Higgins and Chris Nordmach Blais. They both took on writing duties. Higgins is credited for all lyrics.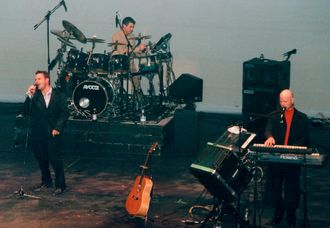 Higgins is credited for lead vocals, guitar and synth. Chris is credited for all the keyboard and drum programming, production, engineering, mixing and backing vocals. Additional musicians: Terry Lesperance/drums, Ed Everaert/guitars, Charlie Lambrick/guitars, Andrew Muroff/guitars, Al Trudell/classical guitar on "Surrounded". Trudell also has co-writing credits on the song "Real Thing". Donnie Lyle/guitars, Ray Burton/bass, John Kersey/bass and Chris Nomikos (Dj Triple X) for the remixes of "Surrounded" & "Talking To Myself". Album artwork concept credited to Scotty Hughes. 
In 2002 to support what they felt was the strongest single "Surrounded", Rob & Chris starred in their first music video to support the release. Shot and edited in Toronto, ON Canada by Charles Gordon. 
"Rob usually would come in with the main idea and lyric. Sometimes things musically would change if I came up with a different way to produce a song etc. But one of the things I remember about one song in particular we redid. It was the song Surrounded, we actually couldn't get the feel right when trying to copy Al Trudell's classical guitar solo so we digitally sampled his original solo from the previous released "Vibe A Tribe - Tribal Instinct" original master tape and digitally reshaped it to fit the redo of this track" ~ Chris Blais/Nordmach