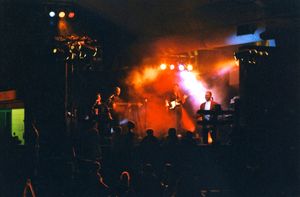 1993 >1996  Vibe A Tribe  
It all started with a customer named Rob Higgins, then friendship when Chris Blais was working at a Canadian retail music store "Long & McQuade". And still going strong after all these years. But back in 1993 the two struck it off on similar interests and listening styles - Vibe A Tribe was born. Locally their CD "Tribal Instinct" sold just under 2000 units for two local guys that really didn't know how to market any project they felt they were moving in the right direction.  
"For our first CD it was pretty cool to be able to record it at Chalet Studios located in Pickering, On Canada. This was home to many amazing Canadian artists such as Moist, Bare Naked Ladies, Rush, Rik Emmett, etc. So we were really excited to do the album at such an amazing place!" ~ Chris Blais/Nordmach  
The personal changed throughout this projects time frame but album credits go as follows: Rob Higgins (vocals, synth, lyrics & songwriting), Chris Blais (vocals, synths, lyrics & songwriting), Glen Kameka (drums), Julian Grech (bass), Charlie Lambrick (guitars) and also Allan Trudell - guitars, lyrics, songwriting, production/mixing on tracks "Never Ever" & "Real Thing". Al also contributed background vocals to "Real Thing".  
Everitt Ravenstein & Robert Laidlaw produced and engineered the album. Laidlaw known for his bass playing, touring and recording with almost every big named recording artist in Canada.